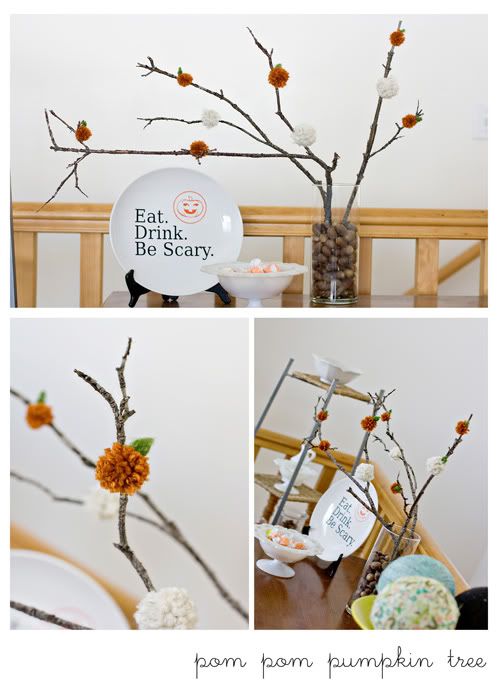 I love making these cute little pom poms (they are addicting) and the other day thought of a fun little way to bring some "fall beauty" into my home while incorporating these cute pom poms.
All you will need is:
orange yarn
white yarn (optional)
scissors
glue gun and glue sticks
tree branch
vase
and whatever other material you would like to make your leaves out of - felt, yarn, fabric, etc.
I used a combination of felt and yarn.
Using your orange yarn (and white if you choose), just follow
this tutorial
, from Bella Dia, and you will be a pom pom making expert (they are so easy).
side note: make sure not to cut the yarn that you tied your knot with. Those little strings will be the way that you attach your pom poms to your tree branch.
Once you have made the orange poms poms (and white if you choose) attach them to your tree branch, which you have placed in your vase.
Take whatever material you choose (felt, yarn, fabric) and cut out little leaves that are a complimenting size to your orange pom poms.
Get out your trusty glue gun and attach the leaves onto the pom poms that are already attached to your branch.
When you are happy with the way that they look, cut the remaining yarn off the pom pom and you are set.
Now you have a cute little pom pom pumpkin tree.
Happy Fall!!