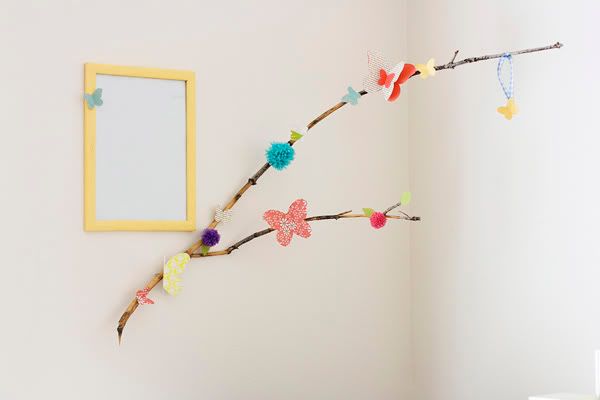 This last week we were all sick and forced to stay at home, so...we decided to make the most of it by making some fun crafts. One of the fun projects we did was this cute little whimsical branch to hang in my daughters room. Easiest and most inexpensive project ever and the smile on my daughters face when she saw it was priceless.
What you need:
tree branch
scrapbook paper
scissors
glue dots
yarn
butterfly template (or butterfly punch if you have that)
First I printed off this
butterfly template
. Traced and cut out butterflies of both sizes. Then I took my yarn and made a few pom poms using tutorials found
here
. Then using my glue dots I placed the butterflies on the branch in a cute pattern and tied the yarn pom poms on the branch. Lastly, I traced and cut out a few leaves from my scrapbook paper and placed on branch using glue dots.
How perfect of a decoration for any little girls room.